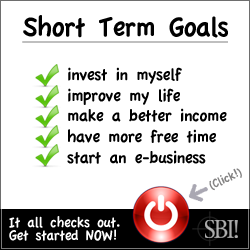 Getting Hubby On Board
One of the biggest challenges many of us face when we first start to work from home is getting our husbands on board. Many of them aren't exactly excited about initially losing the income we used to make working outside the home. Or if you haven't been working, hubby may be worried about getting less attention, or that he'll have to help more with the kids and around the house (which he will).
If you know your husband won't be too excited about you working from home, ease him into the idea. Start talking about how nice it would be to be able to be around when the kids come home from school or when they are home sick. Or, if you aren't working, explain to him that you hate to see the whole burden of paying the bills on his shoulders -- that you'd like to contribute to the family financially. Share your reasons why this is so important for you. If your current job allows, see if you can work from home one or two days a week. Or alternatively cut back on the hours or days of your day job and start working from home on the days you're not at the office. Not only will this give your husband a good idea of what having you work from home will be like, it's also a good way for you to try things out.
Once you're ready to make the plunge to working from home full-time, agree on a trial period with your husband. You work from home for a month or two so both of you can get a good feel for what things will be like – both how working from home will impact your family life and how things will work out financially. After the trial period the two of you can sit down and decide if this should be permanent, or if you will go back to a regular job. Don't worry, though. As long as working from home doesn't put too much of a financial strain on your family, your hubby should be perfectly fine having you at home and will love the extra attention both he and the kids get with you not being stuck in late meetings at the office.
As you start to make progress in your work at home business or job, share the joys with your husband. Show him the checks you are getting and celebrate a little with each improvement. He'll see your excitement and will enjoy these early successes with you. It will also make him feel proud to see what you are accomplishing. If you can, try to get him involved in your work. Ask him to help you set up your office, or have him hand out business cards or flyers. His pride and involvement will increase if he sees that he is part of your success.